Mobility is an integral part of the life of Marie Skłodowska Curie scholars. Furthermore, as PhD students they sometimes enjoy additional travels. Although few would compare PhD-life with the one of rock stars, our ESRs 02 and 05, Marianna Pateli and Stelios Spathariotis, of Leicester University are happy to go "on tour" this year! Below you can read a nice overview.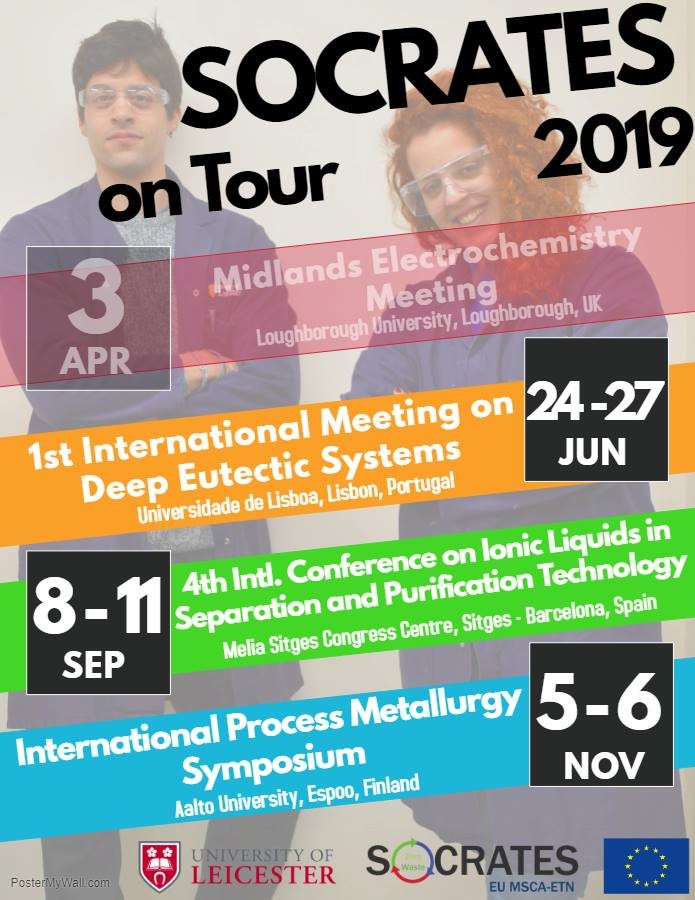 Marianna and Stelios study at University of Leicester in the field of Deep Eutectic Solvents. They selected three conferences to present their work and to share their research outcomes.
Marianna is going to speak about the dissolution behaviour of metal oxides in deep eutectic solvents and the different parameters that affect it. Also, she will present her results on the leaching of lamp phosphors in deep eutectic solvents that she obtained from her 3 months secondment in KU Leuven.
Stelios presented part of his work in the Midlands Electrochemistry Meeting 2019 that took place in Loughborough University. In June 2019, you can find him in Lisbon where he will give a keynote speech on the electrowinning of metals from Deep Eutectic Solvents in Lisbon, and where he will also do a live demonstration of painting with DESs as a dissemination activity! Next, separation of metals will be the main subject in Sitges (Barcelona). Finally, he will give another talk about the recovery of metals in Aalto (Finland) during the International Process Metallurgy Symposium.
Andy Abbott, the supervisor of the two ESRs and founder of the deep eutectic solvents, will give plenary lectures in the same events on "Ionometallurgy: Metal processing using ionic liquids" and "Deep Eutectic Solvents – DESperately looking for solutions". If you are interested in Andy's, Marianna's and/or Stelios' work, try to catch them at one of these places:
24-27/06/2019: 1st International Meeting on Deep Eutectic Systems, Universidade de Lisboa, Lisbon, Portugal
08-11/09/2019: 4th International Conference on Ionic Liquids in Separation and Purification Technology, Melia Sitges Congress Centre, Sitges – Barcelona, Spain
05-06/11/2019: International Process Metallurgy Symposium – Metallurgy as a tool for challenges in circular economy, Aalto University School of Chemical Engineering, Aalto, Finland