First of all, CONGRATULATIONS on your decision! Despite knowing that it may be a painful journey, you accepted the challenge to get this 'Dr.' in front of your name. You start enthusiast and motivated, knowing that you are going to work on your field of interest nurturing your little baby, the thesis. Exciting!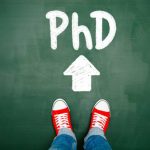 But seriously, have you ever asked a PhD student how their project is going? Personally, about 80% of the answers I get are rather disappointing. So what happens when things do not go as planned? And how can someone deal with it?
A PhD can be a trial and error system based on applied sciences with the purpose to take it one step further. So it is expected that at times some thoughts, methods and approaches will not work. Don't panic. You have the necessary skills to deal with it:
This is the first thing that characterizes a PhD student. The passion to discover something new and (or) to improve something that already exists. Innovation in this point means alternative. And alternative means finding another way of doing it. You get it right?
A Bachelor degree and a Master of Science (or Research) are pre-requisites in order to go for a PhD. The word Master itself reveals that someone has been trained and has all the necessary knowledge to understand, criticize and make future thoughts about a subject. Even if that is not the case for you, the PhD provides an environment of continuous self-improvement and it is more likely that you will familiarize very fast with the new knowledge given.
Getting a PhD requires hard work on a project for (at least) three consecutive years, most probably without getting any immediate reward. If you prefer to constantly receive rewards for doing your work, maybe a PhD is nothing for you. But on the bright side though, when it comes to PhD, the final reward is definitely much more rewarding.
You are Optimistic and Ambitious
Overcoming big difficulties usually brings great results. You already think about the prospective good results and the big picture of your project, don't you? Because that is the way to approach this challenge. Always stick to your final target.
Managing your emotional responses to difficulties or adversity is vital for your personal health. This includes a sense of self confidence and the ability to deal with your emotional reactions to work problems. Also stress management is a key feature together with the ability to bounce back from disappointments or mistakes.
You didn't even knew that you are that person right? Now that you know, get back to work and form a better perspective. Because NO PAIN, NO PhD!
Stylianos Spathariotis (ESR 5)