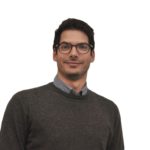 Roberto Macchieraldo
ESR9
University of Bonn
My name is Roberto Macchieraldo and I am ESR 9. I am Italian and I was born in Biella, a small town close to Turin, in the north of Italy. Although right now I am a researcher (or I pretend to be at least), in my life I had several experiences, in Italy and abroad as well.
But let´s make a step back. I took my chemical degree in Turin and I had lived there during that period. Turin is an amazing city, big enough to offer anything you need, but still small enough not to make you feel small and alone. Moreover, people there are friendly and let you be yourself and as I am Italian I must say that the food is great. If you love chocolate especially. During that period, I also had the opportunity for an internship in Paris, and well, it is Paris, do I need say anything more?
Once finished my studies I moved back to Biella, looking for a job, and there I worked in a small but solid company which produce non-woven fabric (you know diapers and tampons? Well, non-woven fabric is what they are made of). After a year, I felt I needed something different, so I moved to Siena (one of the most amazing place in Italy, in my opinion) where I attended a master in Drug Design and Synthesis. Thanks to that master I had the opportunity to work for GSK, a pharmaceutical company, in the field of the Quality Assurance.
I must admit that the period spent in Siena has been one of the happiest in my life. I would like to describe Siena, but I would go long so I recommend any curious reader to google it and book for holydays as soon as possible! (No I am not paid by the city of Siena, but if the mayor of Siena feels like, I will accept any present for what I just said).
During that period, I had an interview in Belgium for an open position as early stage researcher (ESR) in a European project called Horizon2020-Socrates. And here I am now, working in Germany as a researcher, seeking my PhD, which is onto the miscibility of solvent systems that are relevant for metal extraction by theoretical methods. I don´t have a lot to say about that right now, as I had just a short time since the beginning, but what I saw so far makes me happy about the decision taken and for all the interested readers further news and information will come in my next posts. I wanted also to thank the whole Kirchner Group for all the help received and for the great experience I am having.
Now it is time to go back to work 🙂