Newsletters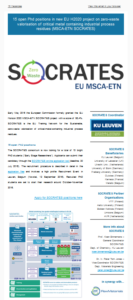 ETN SOCRATES provides regular newsletters to provide information on the project progress and on relevant events in the field of zero-waste valorisation of low-grade ores, extractive waste and industrial process residues. A first Newsletter was sent out to announce the project and call for potential ESR candidates (read Newsletter here). You can register for the SOCRATES Newsletter here: https://etn-socrates.eu/ (right column)
Furthermore, ETN SOCRATES is also linked to the EURELCO Network, which produces a monthly newsletter that contains info which is also very relevant for the SOCRATES community. This newsletter also provides regular Enhanced Landfill Mining (ELFM) Policy Brief sections, where the policy aspects of ELFM are investigated and where suggestions to policy makers are provided. The EURELCO Newsletters can be downloaded through: https://www.eurelco.org/newsletter. You can register for this EURELCO Newsletter here.
*
Policy Briefs
ETN SOCRATES regularly publishes Policy Briefs which are intended for EU and national Policy Makers.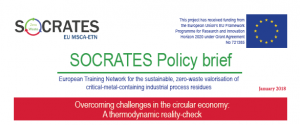 SOCRATES Policy Brief 1 (January 2018): Overcoming challenges in the circular economy
In this first EU MSCA-ETN SOCRATES Policy Brief, guest authors – Justin Salminen and Sirpa Olaussen from Boliden – provide their view on the challenges with respect to the zero-waste valorisation of low-grade ores and metal-containing industrial process residues. Salminen and Olaussen stress the importance of carefully explaining the overall impact of policy decisions and their consequences. Zero-waste may sound nice but in reality this is not straightforward to achieve: a thermodynamic reality check is vital, as is discussed in detail in this Policy Brief. Finally, Salminen and Olaussen offer a number of recommendations for policy makers in the metals and minerals sector.
*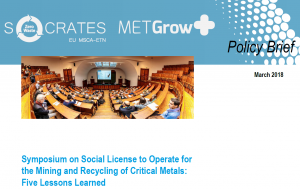 SOCRATES Policy Brief 2 (March 2018): The Social License to Operate for mining and recycling of critical metals
Following the Symposium on Transitioning to a Low-Carbon Economy – the Social License to Operate for the Mining and Recycling of Critical Metals (21 February 2018, Leuven, Belgium) the two EU Horizon 2020 projects SOCRATES and METGROW+ joined forces to publish a Policy Brief on this crucial topic for the mining/metallurgy sector in Europe and the wider society in general. The Policy Brief discusses the Five Lessons Learned with respect to the Social License to Operate for the mining and recycling of critical metals, which are essential for the transition to a low-carbon economy. An executive summary is provided below. Download SOCRATES_METGROW_PolicyBrief_SLO